Today, I'm selling my first trick that i'm using to earn $3-$6 a day or $20-$40 weekly in Neobux and Probux..it's very easy. You will only take 30 to 45 minutes. This guide will be given to only 10 people to avoid it become saturated.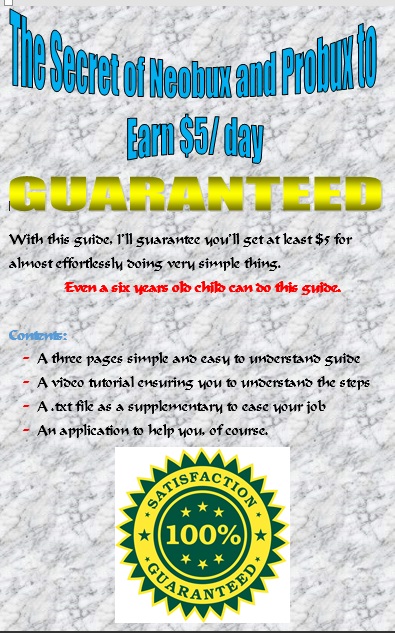 ​
What is this trick?
This Tricks will allow you to earn $2-$6 daily in both sites. this tricks will be only given to limited people.
It consist of the following:
1. Ebook-guide
2. Video Tutorial
3. Trick itself
Is it for free?
Nope.
Is there a possibilities that i will get banned here?
- yes there is a possibility that you will get ban if you don't follow the guides. it's only 1% though.
- Using this trick won't violate ToS of Neobux and Probux. so it's safe to use. To avoid that this trick won't be saturated, i will give it to few people.
Is this working in Neobux and Probux at the same day?
80% yes
20% no
but 100% it will work on one of them..
- it actually depends on the internet connections you have.
Ebook + Tricks + Video Tutorial = $30
Proof?
- sure... here you are...
NOTE: this tutorial has separated video tutorial. I can't attach it here, so, please, kindly PM me after purchasing, I'll give you the download link to the video tutorial.