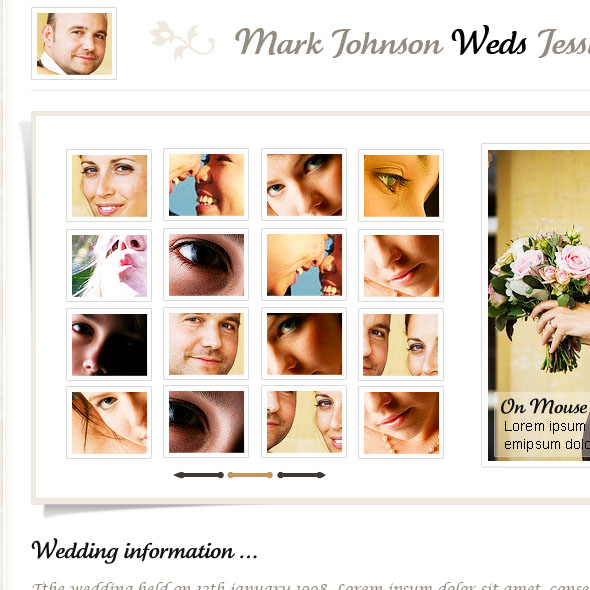 This is a Professional HTML Template for Wedding photographers and wedding websites.
"ThePrincess" HTML template is an elegant & stylish layout designed to promote wedding photography. Templates included are home, personal wedding page for each client, admin page, blog, gallery, contact us etc.
Simply open the HTML file given, and begin adding content images etc to your website.
To code the admin area and password protected galleries in a server side script like you will need a web developer with knowledge of PHP/ ASP.net.
"ThePrincess" Features:
12 HTMLs Wedding Style
Gallery Included
Admin Page Included
Wedding Photos and Albums Page
Fully Editable
Perfect for Wedding related themes.
Organized Layers
Templates and Pages
1_Home
2_About-us
3_Portfolio
4_Blog
4_Blog_click
5_Wedding
5_Wedding_click
6_Contact
7_Cliens
8_Create-client
9_Gallery
10+Login
Live Demo
You can check out this template at the
The Princess Live Demo
Page.
Images
Images used in the website template have creative common licenses and are from flickr. The images are placeholders in the web template, please replace them with their your own images once purchased.
Thanks to
epSos.de
for image.
PSD Versions
PSD Versions for the html template is available at an extra cost of $ 5.