Expired Domain Name Dropcatching Utility
Securiname is a utility for dropcatching domains in the pendingDelete phase of the domain name lifecycle. By rapidly polling the central WHOIS registry, Securiname is able to determine domain name availability almost instantaneously as it drops and becomes available to the public. Once the domain becomes available, an API registration command is sent to one of many supported registrars (NameSilo, NameCheap, Dynadot, Fabulous, and other registrars supporting REST-based API calls).
Curious as to what kind of domains are dropping every day? We parse the lists of over 80,000 .com and .net domains daily to find their ages and pageranks. We also parse daily lists of just dictionary word combinations to make browsing the lists easier. You can find these free pending delete lists on our
home page
.
Securiname Features:
Scans the auction-houses as soon as you add a domain to your drop-queue to determine if it has any existing backorders and warns you if so.
In-application WHOIS utility for domain lookups.
Auto-launch functionality that launches dropcatcher at a designated time (e.g. 5 minutes before the drop begins @ 2PM EST). Also has the ability to be run via cron job for advanced users. Guide available in support section.

Graphing of WHOIS availability requests in real-time and instantaneous audible and visible notification when a domain in your drop queue is caught or lost.

The fastest personal drop-catching system on the market, and by far the cheapest.
Easy installation - simply unzip the contents of the software package onto a new folder on your web server.
The successor of the extremely popular dropcatching application "Snatcher", our technology has drop-caught over 5,000 domains since 2012.
Latest version includes many usability tweaks and add-on utilities such as the "password.php" script in the root of your installation directory that you can run once to quickly and easily secure your program directory with .htaccess Basic authentication.
Learn more at Securiname.com
.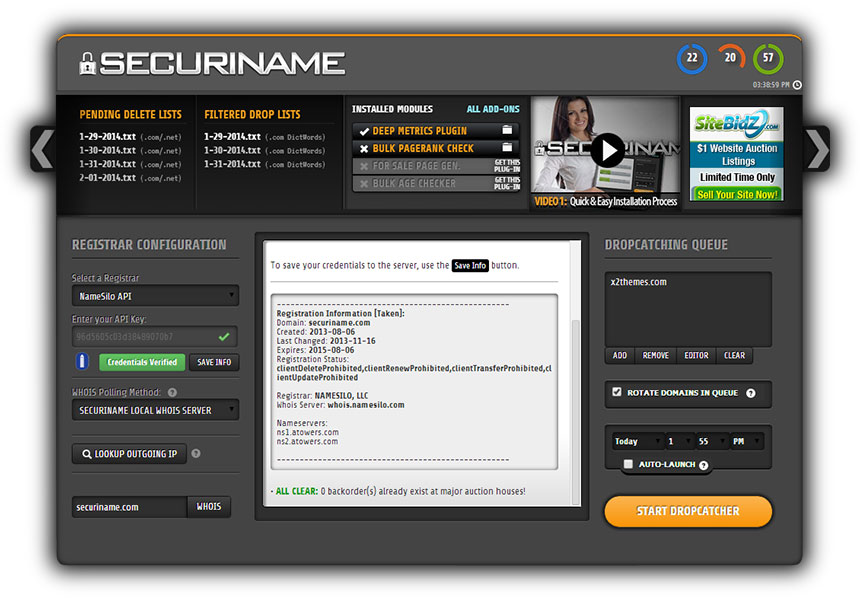 Requirements:
Runs on PHP enabled web servers.
Requires an account at NameSilo, NameCheap, or Dynadot.
Server IP must be whitelisted at registrar.
Support:
http://www.securiname.com/getting-started/
http://www.securiname.com/installation/
http://www.securiname.com/installation-configuration/