Retro - AV Arcade Template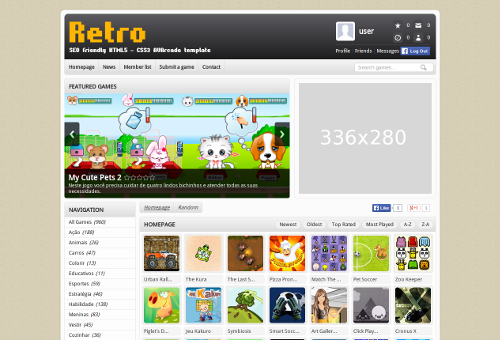 Retro is one of the best AV Arcade templates available and without any doubt, the most SEO friendly.
​
Features
Added drop-down menu for additional pages;
Working error messages for search game page (when no search term is specified and no results are found);
Display submitted games on profile page only if game submission is enabled;
Custom breadcrumbs module with microdata markup (for name based SEO URLs);
Schema.org support (including ISO 8601 datetime microdata format for comments, news posts, and game pages);
New design for member list page, by default ordered by top players;
Set how many news posts you want displayed per page;
Set the number of users you want to appear on member list page;
Set the number of links to display in sidebar;
You can disable link exchanges and keep the links active in sidebar;
Display the link exchanges in sidebar only if there are results (links);
Display the "more links" link only if there are more links, not if the number of links is smaller or equal with the total number of links in sidebar;
HTML lang attribute settings in template_settings.php, change the language of the html document without changing the html code, default: en (english);
Meta charset settings, easily specify the character encoding of the html document, default: UTF-8;
Semantic structure (navigation, news page, game page, comments etc);
Basic ARIA landmark roles;
Enable/disable website URL field on profiles;
Proper rel="prev" and rel="next" implementation for category pages, tag pages, member list and search pages (placed in the <head> section of the page);
For member list pages I have used noindex - nofollow, for all pages except the first one;
Integrated Gravatar plugin (retro, identicons etc);
Disable avatar upload form if gravatars are enabled;
Support for subcategories in navigation (vertical menu);
Enable/disable game statistics on game page (game plays, number of votes, date added);
Enable/disable referrer URL form on game page;
Enable/disable share buttons on game page;
Set your favourite sharing service for game page, choose between 5 options: AVarcade buttons, AddThis, Yandex Share, ShareThis and Po.st;
AddThis options: set your profile ID to easily track shares on addthis.com;
Use custom language for AddThis and Yandex Share (defined by site default);
ShareThis options: set publisher ID and track the games your users are sharing on sharethis.com;
Po.st options: set publisher ID and follow the audience insights report on po.st;
Enable/disable Facebook like and Google +1 buttons sitewide (news pages, game pages or main page etc), 2 options available, AddThis buttons or Facebook/Google default buttons;
Enable/disable Facebook like box and Google+ badge on game page;
Easily set your Facebook like box/ Google+ badge language;
Title format: Title or Title | Site name ( + option to format the title for homepage as Title | Domainname.tld);
Enable/disable meta notranslate (use this feature to disable translation in SERPs or Google Chrome translation frame);
Enable/disable Google Site Verification meta tag, easily verify your site in Google Webmaster Tools;
Option to noindex - nofollow tag pages;
Universal Google Analytics support, set your web property ID and track your site visits;
Option to link to a custom RSS feed, for example a Feedburner RSS feed;
Rel publisher support (Note: you have to place a link from your business about page to your site to make it work properly);
Site description as h1 only on homepage, else h1 is the page title;
Enable/disable comments (removed comments and comment related notifications);
Enable/disable user registration (removed login notifications for non-registered members, if someone tries to access the registration, login or member list page, display an error message, unlink submit game page and member list page from the site navigation);
Set sidebar position, left or right;
Featured games slider (by default the slider makes use of the game images, but you can override the default images by uploading a custom image inside the "slides" folder with the ID of the game as name);
Homepage site description, works by creating a new page, then uncheck "Show in menu" and use template_settings.php to set the page ID you want to use as site description (same for Privacy Policy);
PEAR Cache-Lite support (with different cache for logged in and logged out users);
Display categories or tags in sidebar;
Set the number of games to display per tag in sidebar menu;
Select from 5 color schemes: red, black, brown, green, blue;
Theme definitions (for this template only, not for the entire script) are translated in English, Portugues, Spanish and Romanian;
Browser support
Modern desktop browsers (Firefox, Chrome, Safari, IE10+);
Basic legacy browser support (IE9 without fancy CSS3 features (like box-shadow, linear-gradients etc);
Adverts
Leaderboard 728x90px (AVArcade assigned name: leaderboard);
Large rectangle 336x280px (AVArcade assigned name: banner);
Wide skyscraper 160x600 (AVArcade assigned name: small square);
Not included
AVArcade forum add-on support;
RTL support (arabic, hebrew);
Responsive layout;
Conditions of use
One license per domain
Demo
http://retro.neojogos.com
Support
Support is available on AV Arcade Forum, for verified license owners.
Refunds
No refunds for digitals goods under any circumstances. If you have any questions or doubts about this product, about discounts or anything else related, please don't hesitate to contact me.