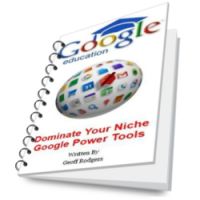 Master 22 Google Tools and dominate your niche – climbing the Search Engine Rankings fast. Keyword research and niche research made easy. Simple examples for you to follow. Some of the things you'll learn about Googles free research tools:
• How To Get Free Web Hosting
• Create & Manage Your Own Interest Group
• The Best Free Keyword Research Tools
• Find The Hottest Money Making Keyword Terms
• Research A Competitor's Website History
• Instantly See If Your Keywords Are Profitable
• Search The Largest Back Catalogue Of Public Domain Material
• Discretely Keep An Eye On Your Competition
• and much, much more!