Hello,
We are a bunch of coders who really love to develop some crazy awesome applications for awesome guys like you
This time we have developed a very powerful application aka Wordpress Movies & Shows Search Engine Theme.
Main Features:
- Onlyflicks Theme automatically populates the wordpress database from user searched Movies and TV Shows.
- Its wordpress compatible and we have built some handy framework for you guys!
- Comes with a custom template for the Watchlist, you can add movies to your Watchlist.
- OnlyFlicks comes with a free StreamHungry API, a standalone search API that fetches Live streaming links for movies and TV Shows on your site.
- Searches Torrents link to download movie and shows directly to your system.
- Fully widgetized and we will help you hook up some good affiliates.
You wont get a better deal, all you have to do buy this script pimp it up via our frame work, and make it live for public. and earn money.. or have it for your personal use.
Just buy the script, find some good gigs promote the website and don't worry about the contents and links and the extra stuff. we have taken care of it automatically.
Check out the DEMO
Theme's Backend and settings.




Having trouble in making up your mind?
Let me Start it all once again...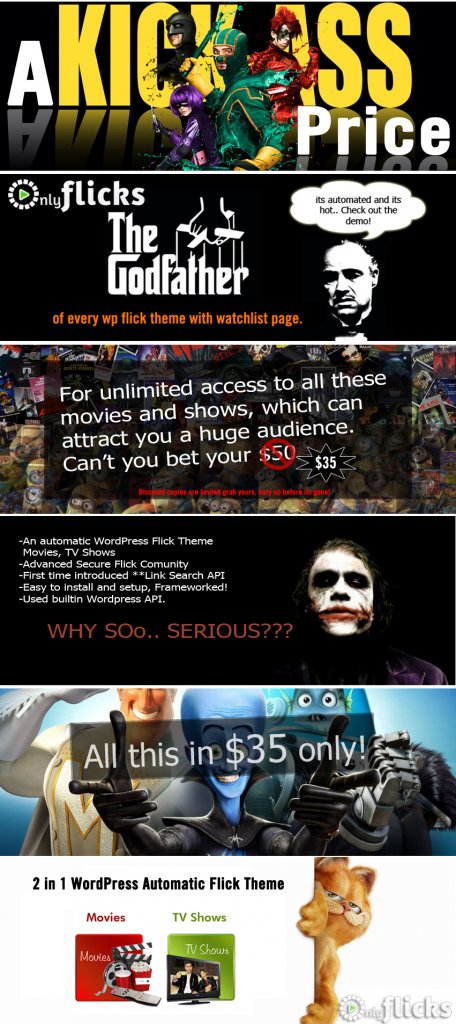 Check out the DEMO
Discounted price @ $35 limited time only. Hurry grab your copy before its gone. Happy Mother's Day!