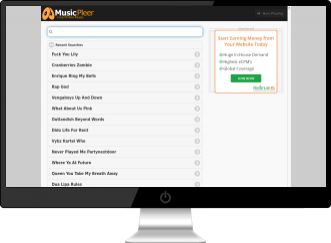 You can try the Demo here:
http://phpscriptdemo.info/musicpleer-clone-script/
Features:
Browse for Music
Search for Music
Listen the Songs
Download MP3
Similar Searches
SEO friendly Urls (latest technology)
Advertise on Website
Google Analytics
Style:
Exact Clone of MusicPleer
Full Responsive
Mobile ready
Benefits:
This Script is not illegal
Run on any Server with PHP5
No YouTube API Key required
No Database required
No ffmpeg needed
Requirements:
PHP 5.x
ModRewrite
Recommendation:
We recommend to run the script in root of domain not in folder or subdomain. (e.g.:
www.musicpleer.clone
)
Don´t use Google Adsense for this Script.
Purchase here:
Price: 20$
Copyright Removal: 10$
Other prices:
MusicPleer Clone Script
Instant Download after Payment.