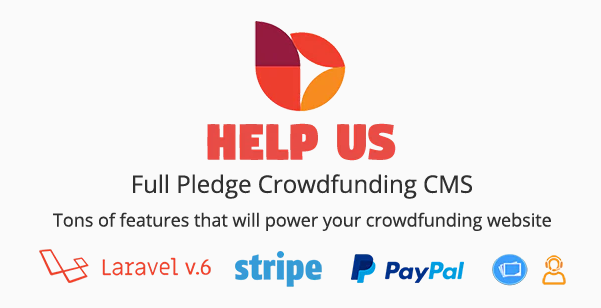 I purchased this license from Code Canyon for a project but my client backed out at the last minute. Paid $89. Just trying to get back some of my money so it's not a total loss.

You can try the demo at https://codecanyon.net/item/helpus-ultimate-crowdfunding-solution/22047466
HelpUs is a crowdfunding CMS comes with amazing features and great performance. HelpUs crowdfunding script is simple to use and easy to install. HelpUs PHP
Crowdfunding script
able to launch a full-fledged crowdfunding website within just 5 minutes and able to load tons of data. HelpUs is a user-friendly platform and it will fill all of the requirements that you need to make a crowdfunding website. Its clean code will easy to customize and developer friendly to add/remove any features. Extend HelpUs crowdfunding software easily.
You can also use it as
PHP Donation Script.
It comes with reward-based crowdfunding and donation-based crowdfunding system. You can add unlimited rewards to campaigns, so users can see what he getting against his donation.
Laravel Version: 5.6
Server Requirements
PHP >= 7.2.0
BCMath PHP Extension
Ctype PHP Extension
OpenSSL PHP Extension
PDO PHP Extension
Mbstring PHP Extension
Tokenizer PHP Extension
XML PHP Extension
Ctype PHP Extension
JSON PHP Extension
Fileinfo Extension
THE FILE IS TOO LARGE TO UPLOAD TO THIS MARKETPLACE, SO YOU WILL BE GIVEN A LINK TO DOWNLOAD IT.